Various Dashboards
Multi-views, with heading, heel, trim, tack, gybe, roll, speed, wind, depth of water, Centre of Motion, map co-ordinates, latitude, longitude, speed over ground, and course over ground, displayed graphically and numerically.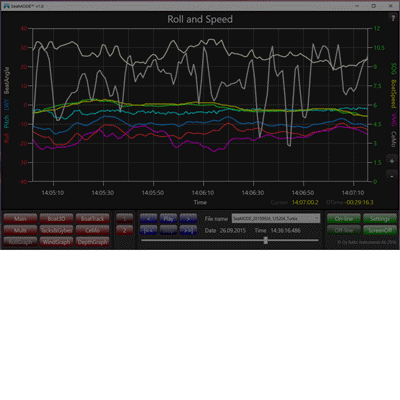 Measure, Analyse and Improve

SeaMODE™ Speed Lab
The SeaMODE™ Speed Lab Application measures and records the data collected from two MD100 motion detectors, the GPS and other possible sensors that are connected to the system. SeaMODE™'s copyrighted dashboards are unique and user-friendly. It displays a variety of navigational and performance parameters graphically and numerically.

SeaMODE™ Speed Lab has comprehensive calibration features and provides motion compensated speed, wind and depth measurements. Several dashboards can be user defined, scaled and zoomed enabling an excellent means also for detailed analysis of performance and maneuvers. All dashboards can be used both in real time or when analysing recorded data.
Download SeaMODE™ Speed Lab Brochure PDF
Download Racing Application PDF
Roll and Speed Graph